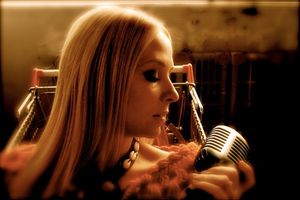 Bio
International acclaimed Grammy Nominated Singer, Songwriter and Entertainer extraordinaire Sarah Daye, is a Canadian artist named 'Soul Diva' by popular press. Based in LA years after having toured successfully as an Independent artist accross Sth East Asia, 6yrs through 5 counties, many islands and cities from her home town of Toronto where she comes from humble beginnings.   
A few of Sarah's recent career highlights include being honored to feature and front 'The Kevin Eubanks band' in Vegas with the fabulous Donny Sykes @ The great T-Mobile Arena for Microsoft. Performing for 7,000 as apart of a series over two days that also featured greats; Bruno Mars, Lenny Kravitz and Ellie Golding. Quite the hit!
Lady Daye was ecstatic to open up for the super star Lenny Kravitz, singing with the incredible 'Andra Day' at the famous LA Greek Theatre for Andra's 'Cheers To The Fall' tour. As well as performing alongside Armenian superstar Arman Hovonnysian at the famous Nokia theatre at LA Live, to a sold out show receiving a standing ovation from over 6,000, with an A list cast of LA's finest Vocalists.    
Some other exciting projects include being apart of a commercial for the UN recorded at Will IAM's studio in Hollywood, which was casted by Keith & Brandy Harris of TGMA. Not to mention, singing for an incredible session for the 2015 FIFA World Cup theme song, with Jlo and Chris Brown's Musical director & vocal engineer 'Kevin Teasley' a dear friend, respected colleague supporting the likes of Sarah's new planned EP.    
Sarah is known to go above and beyond. And it's no surprise that she has produced and featured in 100's of shows across Los Angeles at the top A list venues over the years performing, featuring, opening and sharing the stage alongside artists like Bruno Mars, Bobby Brown, Ray J, Teena Marie, and Jamie Foxx for his 'Foxxhole' live radio stage show featuring Lady Daye multiple times with many greats, while performing her originals and fan favorites directed by MD producer extraordinaire Nissan Stewart.  
Daye has headlined many world renown venues in Los Angeles, and built successful residencies at; 'The Beverly Hills hotel', The Grove 'Planet Dailies', The Cresent Hotel Beverly Hills, and currently featuring @ Seventy7Lounge on The 2nd Tuesday of each month for years successfully, backed by her band of A list musicians who also back many stars. (The Jacksons, Lalah Hathaway, DIDDY, jlo, The Game, Aretha Franklin, Chaka etc.) Proving her extraordinary talent & artistry level. 
This early 2017 Daye had the honor to join an incredible team co-hosting and singing on multiple episodes for a web series 'The KFlow Show', A TV show in the works with the super talented musical genius Md/Producer/Arranger the fabulous 'Kevin Flournoy'. Whom Sarah has worked on several projects, Including one with Michael Jacksons MD and Vocal arranger 'Kevin Dorsey', with sessions at the famous West Lake Studios in Hollywood where Michael Jackson's 'Thriller' album was created and recorded! An incredible Daye indeed. 
To ad to her accolades, Sarah proudly became a published writer after being approached by 5 Time Grammy nominated Producer Devin Evans to be a featured Singer/Songwriter in the book 'Sheet Music' The Diary of a Songwriter' receiving a four page spread. Daye performed both lead and background vocals recording at the world renown Hensons studios where Michael Jackson created and recorded 'We Are the World' with Quincy and so many legends. Making History! Which lead to the project being honored with a 2017 Grammy nomination for the Soundtrack with a team of incredible talent. A tiresome few weeks of vocal and writing sessions, photo and video shoots.    
Daye's unique story, incredible strength and tenacity, have lead her on a successful career path thus far. Paying her dues as she continues working with many A listers in the industry. with a humble grateful attitude. Sarah is no stranger to working hard and patience. She maintains an abundance of faith and focus, remaining balanced to deal with the ups and downs of the business. 
Over time and through her travels she has developed great industry respect for her successful independent journey thus far, holding it down in LA, and touring internationally. Her commitment and consistency speak for itself. A star quality hustle and non stop hands on approach is the reason she continues to grow and succeed accomplishing great things. For miss Daye, it is just the beginning! She has many goals and dreams to achieve. 
Named 'extraordinary singer songwriter' and granted a professional artist visa consecutively, to stay in the US and work as a professional, was not easy! But Daye has stayed the course, and worked hard to be a part of Hollywood's top talent, of industry professionals. And she has been keeping great company for years, with many of the best in the biz. 
From performing at the top music festivals, A list venues around the world, to 5-6 star hotels producing world class shows for International clubs, opening for major artists and djs as the original NYC Studio 54 Dj 'Bert Bevans', 'DJ Ravin' producer and creator of 'Buddah Bar' Paris, to 'Jose Padilla' from Spain, producer of 'Cafe del mar', to name a few. Sarah has the versatility and chops to satisfy and create, present a world class product. 
Sarah's wide range of talent and diversity stands out locally and Internationally. With a proud background studying at Toronto Canada's top private Musical theater College. A true triple threat artist. Starting out as a professional dancer, training at the tender age of 3. Practicing disciplines of ballet, jazz and tap, and eventually specializing in hiphop and branching out to latin. After years of hard work, Sarah was accepted to dance in the top Hiphop Dance company 'Dodat' out of Toronto, Canada, with accomplished choreographer to the stars, & founder Luther Brown. (Janet Jackson, 'So you think you can dance' judge, DIDDY, Missy etc..) 
Lady Daye has opened for many celebrity artist's, International royalty, major brands local and over seas as; Moët, Hennessy, Tommy Hilfiger and many more.
Today, Sarah continues creating, writing, and is currently recording to complete her long awaited Ep; Sarah Daye 'The Journey of my Soul' musically directed by Grammy Nominated Drummer Stacey Lamont Sydnor. Plus a few new singles, which Daye will be recording at Sphere studios with producer, arranger, Pianist Kevin Flournoy who's worked with Areatha, Chaka, Glady's Knight you name it! 'A New Daye', Stay tuned! Sarah is surrounded by an unbelievable creative 'Daye Dream Team'. She is about to give you the best she's got!    
With her original show ready to go, Daye is ready to tour and open for many more. She has her 'Sexy Soul session with Sarah Daye' show with a mixture of originals and favorites to satisfy all the masses. A true entertainer & a must see. Infectious, sexy, powerful. A bombshell starlet. Just wait and see.
She is only a 'Daye' get it, away!  
Today you can donate in support of her Daye Dream EP by clicking the donate button link on the site. 
Ps. 85@Christmas is the newest Cali Christmas Daye Classic. Enjoy the holiday with a taste of the Daye, and visit Sarah's youtube page for the cool lyric video too! 
2019, be ready! It's a brand new Daye.  
CONTACT:BookingSarahDaye@gmail.com 
SOCIAL MEDIA:  
Snap: SarahDayeTime  
Twitter/IG: @SarahDaye  
www.Youtube.com/SarahDaye 
www.Soundcloud.com/SarahDaye 
www.Reverbnation.com/SarahDaye  
www.Facebook.com/SarahDayeMusic  
www.Facebook.com/SarahDayeDream  
www.Facebook.com/SarahDaye